What is the Camp Quest Leadership Summit?
Over a weekend, Camp Quest holds an annual summit providing training sessions, roundtable discussions, and opportunities for connecting with other CQ Leaders.
The Camp Quest Summit will take place in Denver, Colorado, from November 4 – 6, 2022.  Sessions will take place all day Friday and Saturday, and Sunday morning. Most sessions will be held on Saturday.
Camp Quest's annual summits are opportunities for volunteers and staff to come together for a weekend of workshops, panels, and fun. The 2020 and 2021 panels were held online due to the pandemic, but we do plan to return to an in-person summit this year.
You can book your room at the Hyatt Place Peña Station now (group room rate: $109)! We'll share a full schedule closer to the date of the event.
See you in Denver!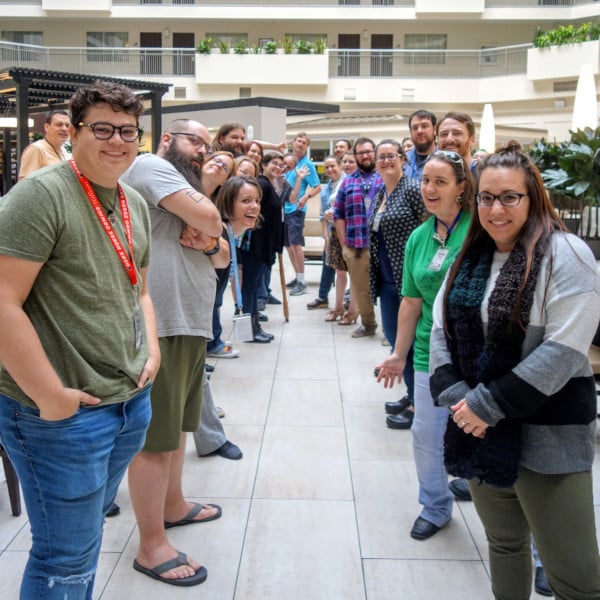 Friday:
CPR/AED 9:00 am-1:00 pm (Additional Fee: $45)
Sessions 2:00-5:00pm
Welcome Reception 6:00-7:00pm
Saturday:
Sessions 8:30am-5:00 pm
Camp Celebration Hour 6:00-7:00pm
Sunday:
Sessions 8:30 am-1:00 pm
Topics/Speakers to include:
Leadership Roadmap to Inclusion presented by Lisa Drennan, Founder, MERGE Diverse Inclusion Abilities Consulting

Creating a Safe(r) world for LGBTQIA+ Community through Education, Conversation, and Empathy presented by Chris Rehs-Dupin, Co-Founder, Transplaining

Roadmap to Creating Appropriate Boundaries with Campers and Staff presented by Rahel Bayar, Founder, Bayar Group

Public Relations in a Crisis: Are You Prepared? presented by Jenny Lawhorn, Founder, Siverbee

Camp Roundtable: Let's Talk Camp! Share Your Highs & Lows, Best Program Ideas, and More! presented by Camp Quest Network

Summit Programming Series: Discovering the World in Water presented by Jen Hargrave, Camp Quest National Staff

This is Not a Drill: Practice Your Decision-Making Skills When Faced With a Crisis presented by Mary Sullivan, Camp Quest National Staff

Inside Scoop: Camp Quest alignment with ACA Standards presented by Mary Sullivan and Jen Hargrave, Camp Quest National Staff

UltraCamp Tips and Tricks presented by Jenny Kneijfl, Camp Quest National Staff
*Schedule/Topics subject to change
Updated: 9-13-2022
Presenting Sponsor ($5,000)
Listed on all online mentions as presenting sponsor, most prominent signage at all receptions and events, invitations
Conference Sponsor ($2,500)
Signage at all receptions and events, mentions online, invitations
Volunteer Appreciation Reception Sponsor ($1,000)
Listed on all schedules, signage at receptions, mentions online
Meal Sponsor ($500)
Listed on all schedules, signage at meal
Session Sponsor ($250)
Listed on all schedules, name listed on session signage
Coffee Break Sponsor ($100)
Your name on a sign at a coffee station
Contact the Executive Director (executivedirector@campquest.org) for any summit sponsorship questions.