What is the Camp Quest Leadership Summit?
Over a weekend, Camp Quest holds an annual summit providing training sessions, roundtable discussions, and opportunities for connecting with other CQ Leaders.
Leadership Summit 2022: Denver, CO November 4-6
The Camp Quest Summit will take place in Denver, Colorado, from November 4 – 6, 2022.  Sessions will take place all day Friday and Saturday, and Sunday morning. Most sessions will be held on Saturday.
Camp Quest's annual summits are opportunities for volunteers and staff to come together for a weekend of workshops, panels, and fun. The 2020 and 2021 panels were held online due to the pandemic, but we do plan to return to an in-person summit this year.
The Hyatt Place Pena Station/Denver Airport is currently sold out and not able to accept room reservations.  Other hotel options include: 
Please note, Camp Quest Inc has not reserved a room block at any of the below hotels.  
See you in Denver!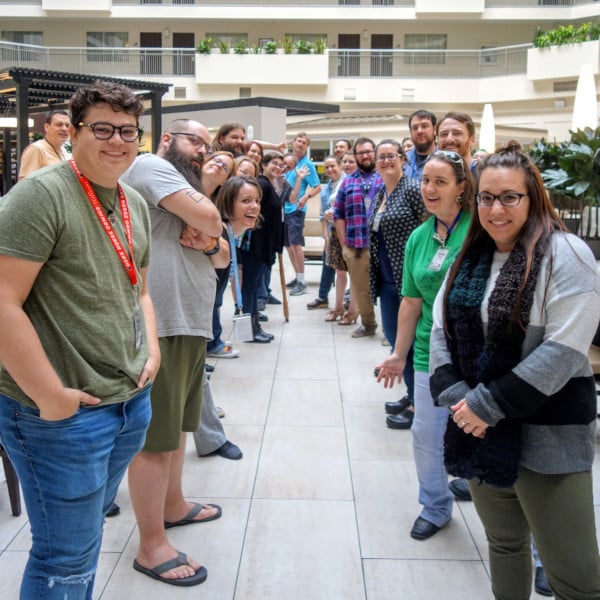 Schedule-at-a-Glance


(Please note all times are Mountain Time)
Training: 9:00 am-1:00 pm
CPR/AED Pro Certification (Additional Fee: $45) Instructor: Jen Hargrave
General Sessions 2:00-5:00pm
2:00-2:45pm Public Relations in a Crisis: Are You Prepared? presented by Jenny Lawhorn, Founder, Silverbee

Planning for a crisis can be overwhelming. In this session you will learn how to respond to and manage a crisis with grace and competence by crafting your message, communicating concisely with stakeholders, handling difficult questions from media, and more. Bring your questions.

This session will be recorded and available via Zoom. Click HERE to be connected via Zoom. (Please note all times are Mountain Time.)

3:00-3:45pm Camp Staff Training Roundtable: Reflecting & Looking Forward presented by Mary Sullivan & Jen Hargrave, Camp Quest National Staff

We want to hear from you! Come prepared to share your best training sessions, your challenges, and what your camp's training needs are to best prepare camp staff for camp.

4:00-5:00pm Camp Quest Network: Where It Began and Where It Is Today  presented by Sarah Miller, Executive Director, Camp Quest Inc. 

Sarah and the National Staff will present an overview of the history and structure of Camp Quest network from the beginning to today, as well as share what we have been working on and our plans for the upcoming year.  National Board Chair, John Meek, will share updates on the National Board by-laws.
Sponsored by the American Humanist Association
Welcome Reception 
5:30-6:30pm: It's time to catch up with your peers, make new friends, and create connections. (Snacks & Refreshments will be served)

It's been three years since we have been in-person – join us and tell us what you are looking forward to for summer 2023 and see the launch of Famous Freethinkers update!
Hang Out Room
7:00pm-11:00pm: Space to gather and just "be", or bring a game for a little friendly competition, or host Socrates Cafe!  (Soda & Popcorn will be served)!
Sessions 8:30am-5:30pm
8:30am-9:30am (2 Options)

Summit Programming Series: Discovering the World in Water Presented by Jen Hargrave, Camp Quest National Staff

Does your site have a creek, a stream, a lake, a river, or a wetland area?  Come explore the amazing world that lives in and around these wetlands including plants and macro-invertebrates.  Each camp in the workshop will walk away with an aquatic study kit including tools and guides for diving right in to teach Aquatic Ecology next summer.

UltraCamp: Preparing for Summer 2023 Presented by Jenny Knejfl, Camp Quest National Staff

Join us for this UltraCamp session to see how it is possible to have all your camper and camp staff needs in one place. In this session, you will learn how to create staff/volunteer sessions, volunteer applications, track staff documents, run background checks in UltraCamp, and post-hire needs.  We will also end the session with a roundtable discussion on what went well, what could be improved, and tips/tricks to help improve our registration for the 2023 season.

9:45am-11:00am (General Opening & Keynote)

Celebrating Community – Dream Big. Start Small. Presented by Jack Schott, co-founder, Summer Camp Society

Let's go! Our camps have huge missions and the details matter. We will dive into how to get more accomplished with a happier team. Jack is an experienced camp founder and sought after trainer. He will share lessons from starting Stomping Ground and visiting over 300 camps.

Inclusion within our Community: Setting Up for Successful Disability Inclusion Presented by Lisa Drennan, Founder, MERGE Diverse Inclusion Abilities Consulting

Camps want to be inclusive, but what does that mean and what does it look like?  Lisa will set the stage for what inclusion is and what it isn't.  She will cover staffing, intaking, and  training as we work to move from inclusion to belonging, setting the stage for success for camps and campers of all abilities.

11:15am – 12:30pm

Leadership Roadmap to Enhancing Your Diverse Abilities Inclusion Initiative Presented by Lisa Drennan, Founder, MERGE Diverse Inclusion Abilities Consulting

Now that we know what inclusion IS, we will explore a roadmap to success for your camp with specific steps, takeaways, and goals for you to bring back to your camp setting to share and implement with camp leadership and camp staff.

12:30pm-1:15 pm  LUNCH

Camp Roundtable: Let's Talk Camp! Share Your Highs & Lows, Best Program Ideas, and More! Moderated by Jenny Knejfl, Camp Quest National Staff

Working Lunch with CQ Network sharing their successes and challenges, to brainstorm ideas, and to share creative solutions from summer 2022. Take this opportunity to share and learn from your peers.  We are stronger together!

1:30pm-2:45pm

Moving from Inclusion to Belonging for Trans* Campers and Staff Presented by Chris Rehs-Dupin, Co-Founder, Transplaining

This session will focus on each camp's ability to create transformative experiences for campers of all genders- with a focus on physical and emotional safety of trans* participants.  Learners will leave with an understanding of some of the current trends in gender inclusive practices, and implementable steps that can be put into practice immediately.  Sponsored by the American Humanist Association.

3:00-4:15pm

Communicating about Stances on Inclusion Presented by Chris Rehs-Dupin, Co-Founder, Transplaining

Camp is really special in that campers have a unique experience away from home, that may slightly be removed from their regular peers, and where they gain a little bit more agency over understanding who they are.  But we have to be really clear with parents about our inclusive policies- what they are, and how they will be implemented- so they understand that our actions are living examples of our camp values.  In this session we will talk about what we should communicate with caregivers about- before, during and after camp- as it pertains to gender inclusion at camp.

4:30-5:30pm (2 Options)

Inside Scoop: Camp Quest Alignment with ACA Standards Presented by Mary Sullivan and Jen Hargrave, Camp Quest National Staff & ACA Standards Visitors, Standards Instructors & serve on ACA Standards Committee

Don't reinvent the wheel!  Let us help you with resources and ideas for getting all aspects of your camp ready each season, while aligning your policies and procedures with ACA Standards.

Camp Quest Inc. Board of Directors Candidate Panel Moderated by Samantha McGuire, National Board of Directors member

Join us to meet and ask questions of the National Board of Directors candidates slated for the November 2022 voting.  Candidates voted to serve on the Board of Directors will serve a three-year term.  As a Board member of Camp Quest Inc., the National Board of Directors have both the opportunity and the obligation to appoint and evaluate the Executive Director, help establish strategic direction, set board policy, and steward organization's assets, all in support of Camp Quest's stated mission.

This session will be recorded and available via Zoom. Click HERE to be connected via Zoom. (Please note all times are Mountain Time)

6:00-7:00pm

Camp Celebration Hour: It's time to celebrate YOU!  CQ National Support Center will be recognizing years in camp, ACA accreditation, and volunteer and camper retention rate.  And Photo Contest Winners will be revealed.

7:00-11:00pm

Hangout Room: Space to gather and just "be", or bring a game for a little friendly competition, or host Socrates Cafe! (Soda & Popcorn will be served) Sponsored by American Atheists
Sessions 8:30am-12:30pm
8:30am-9:15am

Breakfast with Camp Braintrust! Chris, Jack, Mary, Sarah, Jenny, and Jen are available to answer your burning questions about camp and Camp Quest

9:30am-11:00am

Roadmap to Creating Appropriate Boundaries with Campers and Staff Presented by Rahel Bayer, CEO and Founder, Bayer Group

This session will give you and your camp admin team a roadmap and a toolkit for navigating abuse prevention this summer.  Topics will include training on boundaries, understanding grooming, and teaching your staff how to respond to disclosures of abuse and requests of confidentiality.

This session will be recorded and available via Zoom. Click HERE to be connected via Zoom. (Please note all times are Mountain Time.)

11:15am-12:30pm

Camp Leadership: DBA Leadership at Camp Presented by Jack Schott, co-founder, Summer Camp Society

Camp is about the people. Camp leadership boils down to three big ideas: DBA –  Direction, Belonging, and Action. This session is all about bringing these ideas to life at your camp to build a stronger community pushing your mission forward. Join us for tangible takeaways, a few lessons, and hopefully a couple laughs.

12:30pm That's a Wrap-Up!

It's been an exciting few days full of engaging sessions that allowed us to connect, share, and learn.  Let's take a few moments to reflect and tie it all together.  And at this final gathering, we will announce raffle winners who will receive one-of-a-kind CQ prizes!
After graduating from the University of Pittsburgh with a degree in industrial engineering, Jack packed up his bags and hit the road with Laura Kriegel. What they thought would be a month-long road trip turned into 3 years of living on the road researching summer camps and learning spaces. They made incredible friends, learned more than they could imagine, and found a talent for speaking and sharing ideas. After years on the road, Jack and Laura, founded and now run Stomping Ground, help other organizations better tell their story online, and continue work with other camps to bring more kids to better camps.
Chris spent the majority of his professional career (17 years) in youth development, including 8 years in overnight programming, and 9 years in day programming. In his work, he believes every youth serving organization should understand their responsibility to youth of all genders. In 2020, he co-founded Transplaining which is working to create a more equitable and accessible world for transgender and gender non-conforming youth and adults. Chris is a passionate speaker, trainer, and educator who weaves entertainment and storytelling into his workshops and trainings creating an impactful environment for learning and growth.
As an Inclusion Expert, Trainer, Consultant, and Speaker, Lisa uses her 38 years of leadership and experience in supporting people with disabilities to build more inclusive communities where everyone has a valued and meaningful role. Through MERGE trainings, she provides strategies, best practices, and solutions to help recreation, sport, camp or any community organization to be more inclusive in their practices. Lisa strives to give teams the tools and confidence to welcome, engage, and support people with diverse abilities to BELONG.
Rahel Bayer, CEO of The Bayar Group, LLC is a former Sex Crimes/Child Abuse Prosecutor from the Bronx DA's office and a former Managing Director in the Sexual Misconduct division of T&M Protection Resources. As a prosecutor, Rahel was responsible for the prosecution and investigation of hundreds of sex crimes, child abuse, and domestic violence cases including high-profile rape cases. As a consultant, Rahel developed and delivered customized interactive workshops, lectures and trainings across the country to diverse workplaces. She is a nationally recognized consultant, trainer and speaker for camps across the country on sexual misconduct, harassment and abuse prevention. Rahel has piloted leadership training and child safety best practices training at multiple summer camps across the US & Canada and is a consultant to camp directors. She is a sought after speaker nationwide on abuse and harassment prevention.
Jenny Lawhorn founded Silverbee to focus her communications experience on the kinds of projects she loves most: path-finding personalities, worthy causes, nonprofit corporations, and the arts. An award-winning writer and communications specialist, Jenny has built PR campaigns for clients across a wide range of issues—including film and music, the environment, space exploration, travel, and social justice. The connection between these various projects? They all tie into important, much bigger causes.She has proven able to guide the public image of bold personalities and shape complex ideas into compelling stories, from shepherding the true story of a Liberian peace worker who won the Nobel Peace Prize to marketing a quirky news quiz that quickly became one of the most popular shows in the U.S.
Jen has been a camp person for over 40 years, beginning as a camper at Girl Scout Camp. With a degree in Outdoor Education, Jen has worked across the country, from California to New Hampshire and many places in between. She brings a wealth of knowledge around programming, teambuilding, environmental education, health and safety, and crafts. She is an American Red Cross Instructor, Instructor Trainer for USA Archery, as well as Co-Chair of the NY & NJ ACA Standards Committee and ACA Visitor and Standards Instructor. One thing all the different camps and programs have solidified for Jen is "Camp does kids a world of good!"
Jenny has been a part of Camp Quest National Support team since September 2021 with a background in directing and overseeing day camps for the past 6 years. She completed her master's degree focusing on Youth Development and Family Studies. With her previous experience of camp administration, Jenny has been learning and training the Camp Quest volunteers/staff on the features and functions of UltraCamp. She loves sharing her knowledge, but also enjoys hearing other's experience and feedback in making the registration easy to navigate for parents and also administration staff.
Mary has deep experience in youth development, staff development and training, program development and management, including 20 years in both resident and day summer camps. In addition, she has served on the ACA NY-NJ Standards Committee, on the ACA-NJ Board as Professional Development Chair, and is a current ACA Standards Visitor and Trainer. Her volunteer experience includes working as a court-appointed child advocate for CASA, and she is a trained Crisis Text Line counselor, as well as Mental Health First Aid Certified and former instructor. In her spare time, she is a competitive gymnastics coach. Whether it is in the gym or at camp, Mary loves working with others that share her same passion as life-long learners, all while building relationships, creating opportunities, and changing lives knowing we are making a positive impact on the next generation.
Presenting Sponsor ($5,000)
Listed on all online mentions as presenting sponsor, most prominent signage at all receptions and events, invitations
Conference Sponsor ($2,500)
Signage at all receptions and events, mentions online, invitations
Volunteer Appreciation Reception Sponsor ($1,000)
Listed on all schedules, signage at receptions, mentions online
Meal Sponsor ($500)
Listed on all schedules, signage at meal
Session Sponsor ($250)
Listed on all schedules, name listed on session signage
Coffee Break Sponsor ($100)
Your name on a sign at a coffee station
Contact the Executive Director (executivedirector@campquest.org) for any summit sponsorship questions.