Camp Quest affiliates offer fun and inclusive co-ed summer camps with week-long residential programs for children aged 8-17 and day camps for children aged 5-10. Each Camp Quest camp is operated individually, and its board will make its own determinations regarding the safety of running summer camp for 2021.
All Camp Quest camps will follow the guidance of state and local health authorities as well as recommendations by the American Camp Association. Health and safety policies are still to be determined, including space limitations. As camps adapt to updated regulations for summer camp 2023, all registered families will be notified as to how this affects camp operations.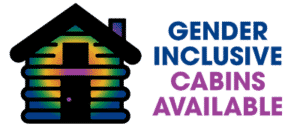 Camp Quest welcomes all kids, regardless of their gender identity and expression. In order to create welcoming and safe spaces that respect the full gender spectrum, many of our camps offer gender-inclusive cabins, which house campers of different sexes and gender identities.